Exterior Building Cleaning
Your commercial buildings appearance plays an important role in the way customers feel about your business. A clean building exterior will naturally attract customers and potential buyers and renters.
If you are a property manager then you already know that a clean building will help attract new residents and keep the ones you already have.
With our commercial building cleaning services we can improve the appearance and curb appeal of your business or property and help prevent costly repairs.
Professional Building Washing
Eliminate unsightly and unhealthy mildew
Improve aesthetics prevent damage
Reach 3+ stories from the ground
Remove dirt, mold and algae
Manufacturers suggested methods
Affordable • Convenient • Fast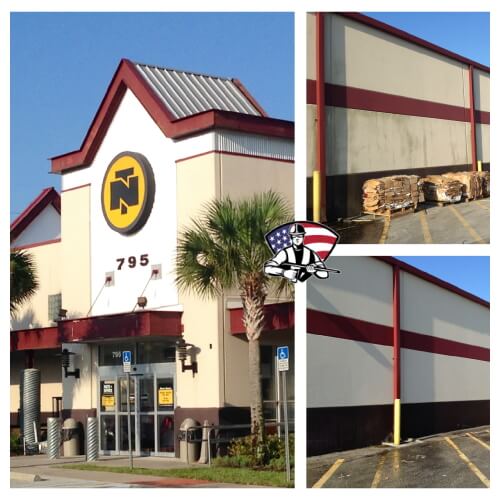 Pressure Washing Pearland  provides year round service to help keep the areas of your business free from dirt, grime and debris for a safer and cleaner appearance.
Our local Pearland pressure wash company helps to remove staining that accumulates on your building using the appropriate amount of pressure and the precise detergents needed for the cleanest clean.
F.A.Q about Building Cleaning
Why should I pressure wash my commercial building?
Your building is meant to attract customers on their first visit. Keeping your business property clean and free of dirt, grime and dust makes a better first impression that will last.
Can you remove grease from concrete?
Removing grease from concrete areas is important. It's a customer and employee trip hazard! We have powerful detergents to penetrate the surface ensure your concrete is as clean as possible.
Do you also clean parking areas?
Yes. Pressure Washing Pearland has cleaned millions of square feet of concrete. We will try to schedule a time when parking area is not in use when we're cleaning the parking area or parking garage.
What cleaning agent do you use?
Our detergents are biodegradable, safe to human, pets, and plants, and proven to be effective.
Every structure is treated differently based on the condition and material used and we can adjust the strength of our detergents on the spot.
Do you clean exterior windows?
Yes. We also clean exterior commercial windows and exterior residential windows in Pearland.