Commercial Exterior Window Cleaning
The view into and out of your business depends on how clean the glass is. With our Pearland commercial exterior window cleaning you'll be delighted by how great your building looks.
Pressure Washing Pearland delivers a great clean on your windows with a streak-free shine that will make
the outside of your building sparkle.
Each of our courteous and clean-cut staff members is fully licensed and insured. They seek to maintain the highest professional standards for safety while providing exceptional service.
Building Window Washing
Remove dirt, dust and grime from all exterior windows
Construction window cleaning
Low rise window cleaning
Flexible cleaning schedules
Cost effective maintenance programs
Atrium & skylight cleaning
Affordable • Convenient • Fast
Your building is also much more than aesthetics. Did you know that clean windows permit the most natural
light into a building?  Did you realize how much of the wall is made up if windows?
A clean window can also reflect heat and promote energy savings. Pressure Washing Pearland uses the most efficient tools and technology to create a spot-free finish.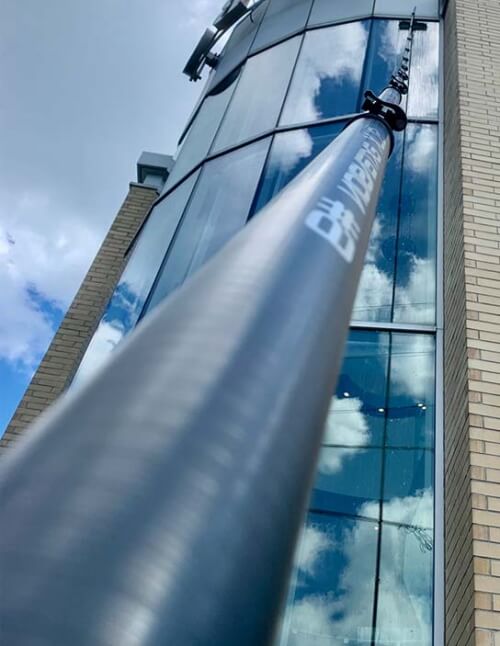 Year Round Window Washing Service
Pressure Washing Pearland provides year round service to help keep the windows of your business clean and free from streaks.
Our local Pearland window washing company helps to remove the dirt, grime, dust, mold, and algae from your windows with our purified water system system.
F.A.Q about Exterior Window Cleaning
What types of buildings do you clean windows on?
We clean all low rise buildings up to 50' with out water fed pole system. Our team is trained to clean windows in all types of commercial properties:
Office Buildings
Retail Locations
Churches
Schools
Apartment Buildings
Housing Complexes
Condos & HOA's
Industrial Buildings
Warehouses
Can you remove graffiti spray paint from windows?
Absolutely! Removing spray paint (graffiti) from windows is a process much the same as removing dirt and grime. Luckily, paint comes off of glass much simpler than brick or stucco.
Do you also clean atriums and skylights?
Yes! Contact us and we will get you a hassle free quote to clean windows, skylights and atrium glass if needed.
What cleaning agent do you use?
Generally we simple use water out of the tap that we run through our multi-stage water filtration system to remove all the impurities.
Do you pressure wash windows?
When washing a house or building we do use some pressure to clean windows, it's a soft pressure merely to remove debris and soap.  We can then follow that with our exterior window washing service.
Why should I have my business windows cleaned?
Your windows are one of the first things customers see. Having your commercial windows cleaned and streak free is an easy way to let potential customers know you care about your product and property. If you were to visit a business or home and saw a dirty window, that image stay with you. Clean your windows.